some random photos before my hp was repaired :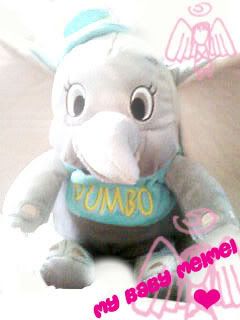 monday
Finally i can collect my handphone !
i miss it so much -.-
firstly, i headed to dear house first .
ate french fries and watch Maggie and
Me on Mobtv at the same time . it is
super duper funny ! i always rmb this line :
''I am Jonhny Tan,Ghostbuster,Easy Come Easy Ghost !''
His tone sounded so stupit when he said
this line ! hahas i keep laughing non-stop !
duh ! Dear cant stand my laughter -.-
afterwards , we went downstair to have our
dinner and headed to Wisma to collect my hp .
actually my hp is not exactly really repaired ,
my # button got something wrong and they do
not have stock now so i need to wait some day
later again!
ARGH ! >:( i fall in love with a golden
colour jeans & vest ! but it is really expensive):
went Vivo afterwards just because of a particular
game ! yups ! Dear is crazy about that game .
hahas , i am attracted to a Baby Dumbo softoy
that is trapped in a toy machine , we tried to catch
it but to no avail . it's really difficult to catch lehs !
but dear knew that i really love that softoy and decided
to ask if they got sell , and in the end we bought
that Baby Dumbo instead of trying to catch it !
thanksthanksthanksthanksthanksthanks Dear !!!!!!!
i really love it ! we keep laughing when heading home!
he is crazy ! hahas
5 , 8 , 12 are always the date to remember <3
today
accompanied my mum and meimei to attend
my meimei parent meeting session . all good
comment on my meimei of course . hahas
i went to trim my hair afterwards, we waited a long
time ! argh ! >:(
will be working tomo too ,
we can't be late again
!