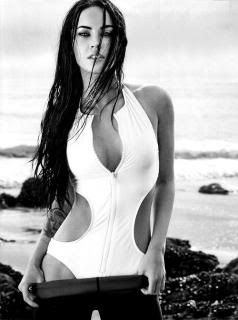 Megan Fox is totally gorgeous.
I super love her eyes!
Thursday
Headed school as per normal.
LAst day of exam ! Hurray !
Me and Char decided to wear headband
to school together ! haha
After school , headed to Cine to watch
Transformer! Rated 5/5 !!
IS A MUST WATCH MOVIE !!!!!!!
worth it !! Megan Fox is so damn chio !
Actually wanted to watch with
Dear at first ! But he pang seh me !!
He go watched with his friends!!! ARGH !
Oh ya ! I go with other class friends. haha
Me and char watched Transformer while
others watch Ice-Age. After that , walked around
then headed to Settler Cafe. Fun day with everybody ;D
wednesday
Went Vivian's house to study.
Went home damn late . tired again !
saturday
Woke up damn early in the morning.
Meet Dear and his friends. We are early lah !
haha ! Waited for Erica , she is the latest. -.- haha
bused to ECP. Cycled until damn tired !
Joke around the whole day. Ate Subway for dinner !
I regreted lah ! Should have ate ramen for dinner !
ARGH! thanks to dear !!!!! CAbbed to ChongJun's
house downstair , slack around.
I am super super tired!!!!!!
Friday
Headed to meet Dear . watched The taking of
Pelham 123. rated 4/5. The ending totally sucks lah !!!!
THen Dear accompanied me
to Raffles Place( my working place) to pass
my photocopied IC . Then haeded back to
Plaza Sing to have dinner at Aston ! Yea !
FInally i can eat !!!! Super delicious at an
affordable price . But the waiting time is long.
But it is worth it ;D I ate until damn full !
Then headed to Aracde. Ya ! Dear keep
winning the soccer game until i am damn bored
looking at him play. haha
Sunday
Woke up damn damn early !!!!!!
And in the end i am late too -.-
Sorry girls ! Head to Escape
Theme Park to do project ok !!!!?
Sounds weird right ? Go Escape
do project ? But i am serious lah !
Our job is to rate everybody services
etc.......... Haha! and we are super duper
suey ! It is not raining everyday but it is raining
on that sunday !!!!!!! WTF LAH !!!!!!!!!!!!!!!
we played from 12pm-8pm and we only tried
5 fking rides !!!! wtf !!!!!!!!!!!!!!!!!!!!!!!!!!!
Kepp waiting for the rain to stop !!!And we took
damn alot of ugly photos -.- haha
HAd a fun day !