Sunday
Slept at almost 5am yesterday night . Had been forced to wake up
by mummy and bernessa to go to Grandma house ! Omg, i am so tired !
And i hate going to grandma house !!! always sit down do nothing ans go back home
again ! Argh , waste of time!

This small kid is hyper active!
Everybody are tired but he is still jumping up and down
entertaining himself in the middle of the night !
Oh gosh !! Difficult to take care of kids nowadays!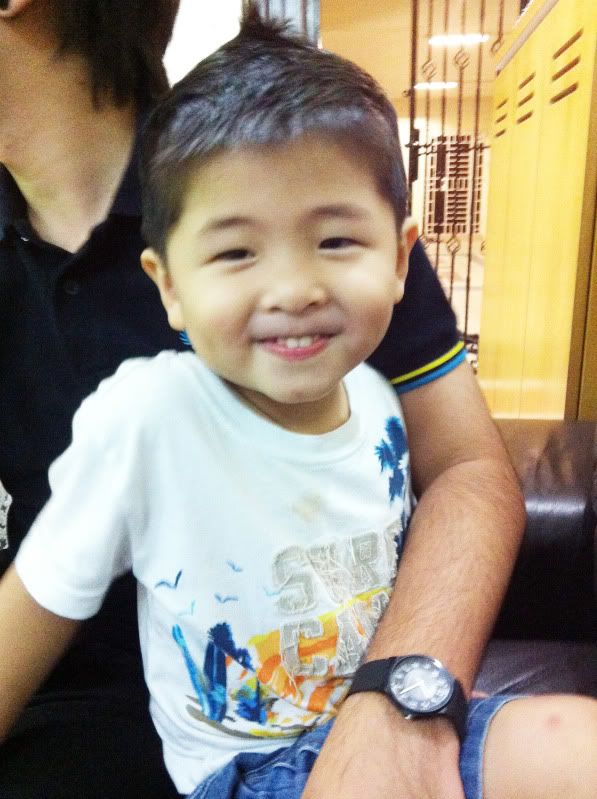 Saturday
Went to watch Dear and co soccer match!
They competed with a strong rivals and we expected them to lose~
But to our surprise , its a exciting match !!! 3-3 !

Nice match
but they can actually won the match !! Argh !!!! After that headed to
ate our lunch at plaza then headed to Dear' house because he need a bath
badly. Then headed back to Hanxiang house. There were alot of
guests at his house ans as usual a gambling den again. Haha.
Stayed at his house till almost 4am +, Had supper with Dear
downstairs ! The porridge there is delicious especially when i am hungry
int he middle of the night (:
Stayed till late for 2 weekends ! Bad for my face ):

Using iphone camera!
Quality sucks !

Played with his hamster which is super cute !!!
It look so tiny ~
I have the urge of buying a hamster , but i am afraid
i cant take care of it!!!
Friday
Headed to Peggy house to give her those contact lens she ordered.
then headed to Chong Jun house for steamboat gathering!
The cabbage taste great !! Ate alot of veggies !
He is going NS next 2 weeks ~ That's fast! Chit chatted , played monopoly
deal and gossiping with them ! HAHAHAHA !
Slack till almost 3am + , i think~
Lepak night ;D